"Bless what there is, for being." Whatever it be, bless it because it exists; you need no other reason." – Br. David Steindl-Rast
"I will tell you yet again that you must never curse your children, your animals, your work, or the weather because in cursing all these things, you are cursing what Almighty God does by His holy will." – St. John Vianney
Sharing my My reflection:
In the context of COVID-19, since we are to bless it and cannot curse it, I am called to humble before God, the Creator of the universe who is all good, supreme good and practice hope to "Trust in the future and our power to endure and persist, to live fully into the goodness that awaits." – Alexander Levering Kern.
Upon further reflection on this day, Good Friday, 10/4/2020 I recall the experience of St. Francis' which he wrote in his Testament 1, "The Lord granted me, Brother Francis, to begin to do penance in this way: While I was in sin, it seemed very bitter to me to see lepers. And the Lord Himself led me among them and I had mercy upon them. And when I left them that which seemed bitter to me was changed into sweetness of soul and body; and afterward I lingered a little and left the world."
What was the sweetness that Francis was talking about, I wonder?
St. Francis acknowledged his conversion experience from the grace given to him by the Lord to meet the leper whom he embraced finally. It was his moment of enlightenment; encountering the God in disguise in the leper. Hence his frequent search for God (as our heart is restless unless it rests in God – St. Augustine) led him to the leper's colony. Francis has begun his downward mobility; from the position of a wealthy merchant's son to being a beggar. Thus began his life for the lepers, with the lepers, as a leper loving and serving his brothers and sisters in the lepers's colony.
This is what I see in Jesus Christ too; the Son of God who discarded his heavenly majesty and splendour and came down from heaven for humanity, living with them and as one of them (incarnation) loving and serving them. For even the Son of Man did not come to be served but to serve, and to give his life as a ransom for many. Mt. 20.28
On this Good Friday, as I contemplate the depth of the incredible sacrificial love of Jesus, the Son of God, I ponder and acknowledge with a grateful heart, "What is man that you are mindful of him, or the son of man that You care for him?" Ps 8.4 "What is man that You should exalt him, that you should set Your heart upon him." Job 7.17.
Who are you, Lord and who am I? I am learning. Are you saying to me, "I in you, you in me, all in God, God in all. That my life is not about me but it's about You." Who is my life? Oh, Christ is my life. "In Him was life." Jn.1.4. How is Christ my life? In as much as He delivers me from death. Unless Christ dies, I cannot die. "I am the Resurrection and the Life." Jn 11.25 That's the promise of eternal life. Of course, Christ is my life in many other aspects. "Christ is the way, the truth and the life." Jn. 14.6
"Your life is hidden with Christ in God but when Christ who is your life appears, then you also will appear with him in glory" Col 3.3-4. As Christ is hidden, so are His people, so am I! But where is Christ? We know He is in heaven, full of joy, sitting at the right hand of the Father, pleading before the throne, reigning and having fellowship with His saints every where, "For my Father's house has many rooms." Jn 14.2
But today, He is on the cross. "We adore you, Lord Jesus Christ, here and in all the churches of the world, because by your holy cross you have redeemed the world." St. Clare's method of prayer comes to mind. "Gaze upon Him, consider Him, contemplate Him as you desire to imitate Him."
Yes, Christ is my hope. He will rise on the third day. He is the Resurrection and the Life! One day, Christ will appear and we shall be with Christ and participate in His glory. What that glory is, no mind can conceive? How and when? We do not know.
Continuing my reflection on COVID-19, I am reminded of the Canticle of Brother Sun by St. Francis in which he invites all creation to praise its Creator. "For His praise," he said, "I wish to compose a new hymn about the Lord's creatures, of which we make daily use, without which we cannot live, and with which the human race greatly offends its Creator." Legend of Perugia43.
Francis saw the interrelatedness between God and creation. He saw God entering into creation. He saw the vastness of the created world. He becomes so intimate and familiar with the wonders of creation that he embraces them as "Brothers" and "Sisters" that is, members of one family. In this Canticle, he also calls for pardon and peace as well as welcoming our Sister Bodily Death from whom no living man can escape.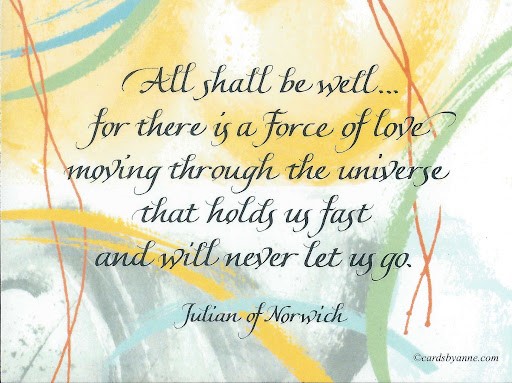 Just like us humans, COVID-19 is a creature of God, lovingly created into existence by God with a God-given purpose of which I may not understand at this moment. Learning from St Francis, I am called to accept the presence of Brother COVID19 in the course of my daily living, finding comfort in these words, "All shall be well…for there is a force of love moving through the universe that holds us fast and will never let us go." Julian of Norwich.
Yes, humanity has greatly offended God in creation. But God, who is love has come to save us. First to save us from ourselves, our own neediness, our fears, our anxieties, our hurts etc so that we can find rest in God. Resting in God, sitting in contemplative prayer and silence will move us to love God more and more and to love as God loves thus enabling us to bear the suffering inflicted by Brother COVID19 and forgive him for he does not know what he is doing. God always forgives! God always loves! A merciful and compassionate God is He!That's the message from the cross for me for this Good Friday.
As I pray, "Heal us, O Lord, Heal our land. Have mercy on us. Come, Lord Jesus, come quickly," I now place my trust in the One who loves me unconditionally even to the point of sacrificing his life to save me and who assures me of His abiding presence, "I am with you always till the end of time."
In gratitude, I praise and bless my Lord and give Him thanks and serve Him with great humility.
May the Lord bless me and keep me.
My the Lord let His face shine upon me and be gracious to me.
May the Lord looks upon me kindly and give me His peace.
Amen.

– MC